Trying something new, again. I'm a little behind on this year's to do list, thanks to a February full of failures which you will hear about later, should I ever have a success with the one particular recipe that has been making me pull my hair out. After all of that mess and frustration it was time for something easier, something with a more unhealthy and therefore gratifying result.
I have had a recipe for fried plantains in my big binder of food related clippings since I was in high school when my Dad first started encouraging me to try new recipes I had never had before. 10 years later and I think it was about time I finally gave that one a go!
If you have, like me, never tried plantains before, you may be surprised on your first tasting. They are in the same family as bananas, however they are bigger, and firm and starchy. In fact they don't taste anything like bananas at all - they get slightly sweeter as they ripen, but when buying them green for tostones the flavor is more like that of a potato, though without any trace of earthiness. While frying I did notice a slight banana-chip-like scent, but it was mild. For trying this unfamiliar fruit I think tostones were the perfect choice for me. Each toston is a crispy fried little chip intended to scoop up things I already know I love, like homemade guacamole and spicy salsa verdé.
They were gobbled up quickly, as anything that has been fried in this house is. They were a little bit firmer than I expected, and I found that the ones that got a little more than golden brown were not so tasty, but overall I was pleased with the results. Preparation was easy, but time consuming, and I would have to say that after spending an hour and a half in the kitchen for something that was devoured within minutes, we won't be making these again without a special occasion to do so.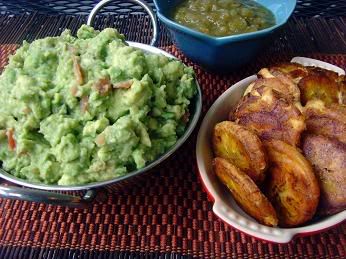 This recipe comes from
this book
, with slight modifications.
Tostones
3 green plantains
4 cups water
2 cloves garlic, peeled and crushed (optional)
2 tbsp. salt
Canola, or other high smoke point oil for frying
Peel plantains and cut into slices approximately 1/2 inch thick. Add garlic and salt to water in a large bowl. Soak slices for 15 to 20 minutes.
Drain plantain slices well and fry in a deep fryer or in a large skillet heated filled approximately 1/2 full with oil heated to 350°F for about 7 minutes, turning if necessary (I have no idea how hot 350°F is, so I used medium heat).
Remove from fryer and drain on absorbent paper (Be careful not to use thin paper towels as you will be picking shreds of it out of your tostones forever). Fold paper over and pound the plantain slices flat with the base of a drinking glass, or use a Tostonera press.
Dip in salted water again and remove immediately. Drain thoroughly on paper towels.
Return to oil heated to 375°F until golden brown. Remove from oil and place on absorbent paper to drain. Sprinkle lightly with salt.
Serve warm or at room temperature.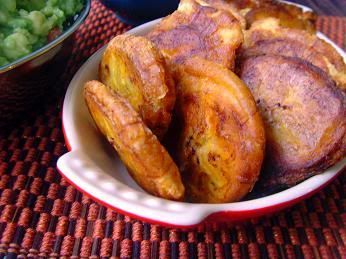 My guacamole was simple this time - 4 ripe avocados, mashed to a chunky textures with tons of lime juice and a decent sized scoop of super hot store-bought pico de gallo.
xoxo
Me