and fell, and landed in a blog. I swear.
I'm always the last to jump on the bandwagon. Not doing what everybody else is doing - it just feels like my place in life. It's not that I'm clueless, although I'm never the first person to notice the new trends either. I just always feel like saying "Oh, that will blow over soon, I'll just ride it out and join in the laughs later about how
tewtally laaaame
that was". Sometimes they do blow over, sometimes they don't, but I'm usually forced to dip my pinkie toe in anyway. I was the last person I know to get a cell phone, I have refused to watch even 5 minutes of
Lost
, and I think I've resisted the crocs phase fairly well by sneering at them every time I see a pair flip-flop past (
Gawd, how much longer are people going to wear those, anyway?!
). Well, I read someone's blog nearly every day. It was only a matter of time before I started one. So hello blog-world. I officially succumb to you.
A little about me, in case you'd like to know: I'm a Seattle area native, and I'm living just north of there now. I'll be 24 next week. I have a sweet hubby and a mischievous toddler. I wait tables and dream of a career in medicine, or biology, or both. Next to the fam, cooking is the most important thing in my life, whether it's the calming feeling I get while listening to the whir-whir-whir of my Kitchen-Aid doing all the hard work for me, or the on-the-edge-of-my-nerves-but-confident stress I so masochistically enjoy when preparing an over ambitious holiday meal for my extended family. And that's all I really have to say about myself for now. More will come later.
I'll leave you with one last thing. Photographer
Mark Menjivar
says that if we really are what we eat, then our refrigerators must be the windows into our souls. I absolutely believe in that. So here you go, take a peek: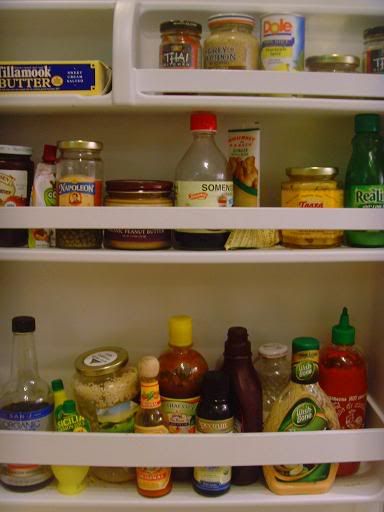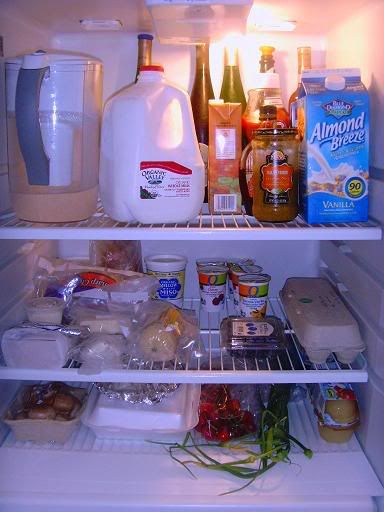 xoxo
me