I worked all night this 4th of July, so I didn't get to get into the whole celebration thing, but if I had gotten to go to a summer BBQ I would have brought these turnovers with me. Faced with an excess of cherries from
our fantastic cherry season
I have been putting them in everything in ridiculous amounts. These little pastries used up the last of my cherry stock, but I'll be getting more in my CSA box tomorrow.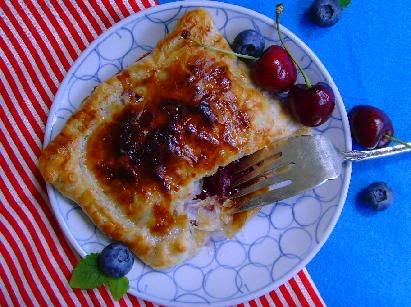 Cherry Turnovers*
1 1/2 cups cherries, pitted (or however many cherries you have left)
1 tbsp cornstarch
2 tbsp sugar
1 tbsp lemon juice
1 package puff pastry
1 egg
1 tbsp water
sanding sugar for dusting
Puff pastry needs to thaw for at least 30 minutes on the counter (I usually thaw it in the fridge overnight so I don't have to worry about it being frozen in the middle still when it's time for me to work with it). When ready to go pit and halve the cherries (or halve and pit the cherries, like I do), then add the cornstarch, sugar and lemon juice and stir. Let sit and macerate for a few minutes.
The puff pastry I buy comes in 3 sheets of 3 strips. Tear the strips apart and roll them out slightly. Put about 1/4 cup of cherries in middle of the upper half of one strip and fold the other half over it. Then fold up the edges all around and press the tines of a fork around the edges to crimp it shut. The turnover should be stuffed full, but not leaking out the edges. Repeat for all strips (it only took me 2 sheets to finish off the cherries. The extra pastry dough can be re-frozen).
Whisk together egg and water and brush the entire top of each pastry; dust each one with sanding sugar.
Bake at 350°F for 20 minutes. If not toasty and brown enough you can pop them under the broiler for 2 minutes or so, but be careful! Mine obviously were broiling for too long.
*This recipe came from
Artichokes and Garlic
. She also provided an icing recipe, but I didn't have the ingredients. Her recipe doesn't call for lemon juice either, but I thought these turnovers would be too sweet for me without it.
xoxo
me