As I sit here writing it is 102°F outside, and probably somewhere in the 80's inside. Even the computer can't stand it - it keeps shutting itself off. A quick glance at the weather forecast shows that temperatures will remain stupidly high for at least the next ten days, although they may at least dip below the 90's.
We are trying to keep ourselves and our kiddo cool as best we can.
Frequent trips to air conditioned stores, running through sprinklers, lots of ice packs and ice cream.
But you can't just eat ice cream. The grown-ups in this house have been eating lots of cold, refreshing veggies to stay happy. Shaved cucumbers in soy sauce with a little chili oil and furikake, frozen peas, and yummy salads. I stopped by Trader Joe's and stocked up on snacks that say summer to me, and pretty much threw them all in a bowl for dinner. With a few trimmings from the garden, this is the yummiest meal I have had in a little while, and it doesn't require a stove or oven which might just push us over the brink when it comes to heat.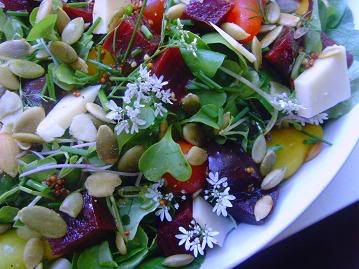 This doesn't really call for a recipe, since it's more of a
throw together whatever you have kind of thing
, but I will give you a list of what I tossed in there.
The base:
Lettuce from the garden, soaked in water for 1/2 hour for maximum crunchiness
Mâche
Trader Joe's gourmet microgreens
The good stuff:
Rainbow cherry tomatoes
Steamed and peeled baby beets, chopped
Trader Joe's Abondance cheese
Top it off:
Coriander blossoms from the garden
Chives from the garden, chopped
Salted pepitas
The dressing:
Juice of one lemon
1 small spoonful whole grain mustard
generous pour of extra virgin olive oil
What seems like too much pepper, but isn't
This salad was quickly snarfed down, and served with a fried egg topped with green tomato salsa. I feel better now. ^_^
xoxo
me